Surface Capacitive Touchscreens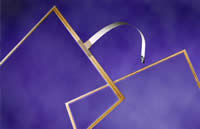 Surface capacitive touchscreens provide a solution for customers who want an alternative to their capacitive options available today. The transparent protective coating makes the sensor resistant to scratches and abrasions. Touch performance is unaffected by everyday abuse and mishaps such as dirt, dust, condensation, liquid spills, contaminants or cleaning solutions. And the Elo-designed controller responds to quick, light touches, and operates drift-free even in areas of poor grounding.
How a Surface Capacitive Touchscreen Works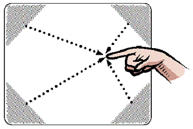 Surface capacitive technology consists of a uniform conductive coating on a glass panel. During operation, electrodes around the panel's edge distribute low voltage uniformly across the conductive layer creating a uniform electric field. A finger touch draws current from each corner of the electric field. The controller calculates touch location coordinates by measuring the current and transmits it to the computer for processing.
Surface Capacitive Benefits


Elo patented narrow Z border for greater linearity


Fast, sensitive touch response with excellent dragging performance


Compatible with industry standard protocols including Elo's SmartSet protocol
Surface Capacitive Applications


Point-of-Sale terminals (POS)


Kiosks


Gaming/amusement
Available Sizes


12"~19" flat,standard and custom sizes.
Application
Medical Industry
Suitable for installation in hospitals, doctor's offices and clinics, the user-friendly intuitive touch interface promotes faster and more accurate medical data input and retrieval. It can increase administrative efficiency, and improve the delivery of health care.
Transportation
From train stations to airports, touch screen interface devices are used in almost all forms of mass transportation. Its applications can decrease training time, increase productivity, create higher quality products and service, and raise profits.
Gaming
From casinos and entertainment centers to countertop and bar environments. Touch screen interface devices have been used to provide an easy and fun way to interact. Easy to integrate touch software has expanded the potential for creating exciting new games.
POS (Point Of Sale)
For point-of-sale OEMs, resellers, distributors, and end-customers, we have the right touch. The easy-to-use touch screen enables POS distributors to provide products that help customers reduce employee training time and speed-up transaction.
Office Equipment / Industrial PC
From process automation and quality control to employee training and communication, ELO is the choice of the leading developers of industrial automation software. The compatibility of our touch screen drivers with different software applications provides them with the flexibility they required to improve their management efficiency.
Kiosks and the Public Access Applications
From trade show booths to retail outlets and from public environments to Web phones, touch screen with our built-in Kiosk system provides interactive multimedia solutions. They enable Kiosks to be used in environments where a keyboard or mouse is not practical.