Marine LCD
The Marine Bridge System LCD is an extraordinary display design with transflective panel, dimming brightness, ease of use OSD front panel control, IP65 proof, multi-scan video function, high quality touchscreen, wide voltage range power input acceptable, and anti-corrosion protection. Built to withstand the demands of maritime applications as navigation, ship automation and surveillance.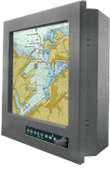 Where available product images are indicated by a

icon next to the model number, click this icon to view.
| | | | | | | |
| --- | --- | --- | --- | --- | --- | --- |
| Type | Model | Brightness (Cd - m2) | Contrast Ratio | Screensize | Resolution | Notes |
| 12.1" Hight Marine LCD | JTR12L100MRM4HB | 1000 | 700:1 | 12.1" | 1024x768 | |
| 15" Hight Marine LCD | JTR15L100MRM5HB | 800 | 600:1 | 15" | 1024x768 | |
| 8.4" Marine LCD | JTR08T200MRT1 | 350 | 250:1 | 8.4" | 800X600 | |
| 10.4" Marine LCD | JTR10L210MRM2 | 400 | 500:1 | 10.4" | 800X600 | |
| 12.1" Marine LCD | JTR12L600MRM2 | 300 | 550:1 | 12.1" | 1024X768 | |
| 15" Marine LCD | JTR15T600MRA1 | 550 | 500:1 | 15" | 1024X768 | |
| 15" Marine LCD | JTR15L600MRM2 | 550 | 350:1 | 15" | 1024X768 | |
| 19" Marine LCD | JTR19L300MRA1 | 400 | 550:1 | 19" | 1280X1024 | |
| 20.1" Marine LCD | JTR20L100MRA2 | 250 | 700:1 | 20.1" | 1600X1200 | |
| 23.1" Marine LCD | JTR23L100MRJTS1 | 250 | 500:1 | 23.1" | 1600X1200 | |