LCD Driver Board Solutions
Jenatzy can provide various LCD controllers for OEM monitor and packaged flat panel display solutions.
LCD Scaler Boards, Digital Sinage Boards and Flatpanel video display kit, offering the flexibility for various customized applications. The Video Modulation Kit is compatible with a choice of S-Video, Composite, DVI and VGA video inputs.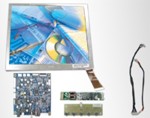 Video Modulation Kits
Where available product images are indicated by a

icon next to the model number, click this icon to view.
| | | | | | | |
| --- | --- | --- | --- | --- | --- | --- |
| Type | Model | Brightness (Cd - m2) | Contrast Ratio | Screensize | Resolution | Notes |
| 5.6" Video Modulation Kit | JTR05X000 | 300 | 150:1 | 5.6" | 960X234 | |
| 7" Video Modulation Kit | JTW07X000 | 420 | 150:1 | 7" | 480*3X234 | |
| 7" Video Modulation Kit | JTW07T740 | 400 | 300:1 | 7" | 800*3X480 | |
| 10.2" Video Modulation Kit | JTW10A200 | 400 | 300:1 | 10.2" | 800*3X480 | |