Wide Temprature LCD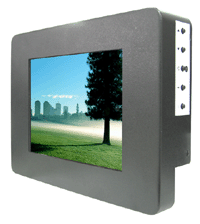 There has been increasing demand for LCDs useable in indoor and outdoor environments that are in extreme temperature conditions. It has been necessary to develop LCD modules capable of delivering accurate color images in extreme sunlight and under a wide operating temperature range from -20 degrees to +60 degrees Celsius.
Jenatzy offers a range from small 6.5" to a larger 15" screen size, with optional touch screen technology.
Features


15 pin D-sub connector


Power source 100~240 VAC, Universal,±10%


VESA DPMS Compliant


VESA DDC 1/2B Plug & Play


Optional Video Input S-Video,Composite,DVI


Optional Touch Screen Resistive,Capacitive
Please contact us for pricing, datasheets or more information.
Where available product images are indicated by a

icon next to the model number, click this icon to view.
| | | | | | |
| --- | --- | --- | --- | --- | --- |
| Model | Resolution | Contrast Ratio | Brightness (Cd/m2) | Screen Size | Notes |
| JTR06T230-RMM1WT | 640x480 | 600:1 | 400 | 6.4" | |
| JTR06T200-RMM1WT | 640x480 | 600:1 | 400 | 6.4" | |
| JTR08T230-RMM1WT | 640x480 | 500:1 | 480 | 8.4" | |
| JTR08T200-RMM1WT | 640x480 | 500:1 | 480 | 8.4" | |
| JTR08T230-RMT1WT | 800x600 | 300:1 | 350 | 8.4" | |
| JTR08T200-RMT1WT | 800x600 | 300:1 | 350 | 8.4" | |
| JTR08T630-RMP3WT | 600x480 | 500:1 | 475 | 10.4" | |
| JTR08T600-RMP3WT | 600x480 | 500:1 | 475 | 10.4" | |
| JTR12T630-RMM1WT | 800x600 | 500:1 | 400 | 12.1" | |
| JTR12T600-RMM1WT | 800x600 | 500:1 | 400 | 12.1" | |
| JTR15L630-RMM2WT | 1024x768 | 350:1 | 400 | 15" | |
| JTR15L600-RMM2WT | 1024x768 | 350:1 | 400 | 15" | |